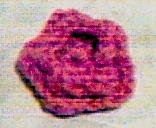 (#8000) A simple rose. For the groom, or men to place on their lapel. Can be any color. Also great to adorn a hair piece (barrette, veil, etc.). $2.00 each.

(#8000) Beaded Scrunchie. Simple, yet elegant. Perfect for brides maids to place their in an elegant bun. Can be made in any color yarn and beads. $3.50 each.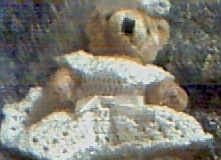 (#8000) Bride Bear. For all bear lovers. Or those who want something cute. Comes with veil and ribbon bows. One color dress $20.00 each. Two color Dress $25.00 Three color dress $30.00.
(#8000) Candle Wrap. This ones placed on a small candle thats the same height. But it can be placed on any candle. I can made it to fit around any size candle. Any color available. Ribbon, roses, tulle, etc., can be added. Approximately 2 inches in height. Price varies, contact me with what you'd like.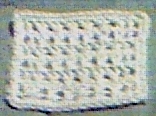 (#8000) Coaster. This coaster matches the set (candle, placemat, napkin ring, etc.), same stitches. Can be made in any stitch. $2.50 each, 4 for $10.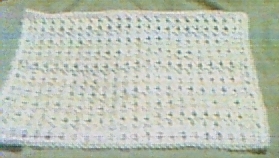 (#8000) Placemat. Matches coaster. Open work. Very elegant. Can add roses, ribbons, etc., to match your décor (I can do that if youd like). Can be made in any stitch. $30.00 set of four (plain).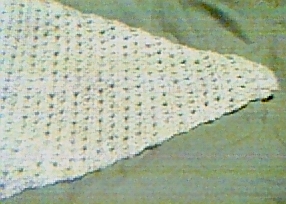 (#8000) Shawl. Can be made in any stitch. This one matches the coaster and placemat. Can be made to fit anyone. Can add fringe or openwork at bottom. Price will depend on what youd like.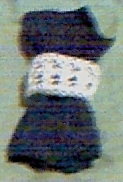 (#8000) Napkin Ring. Same pattern as coaster and placemat. Very simple. Can be adorned if like. $15.00 set of 8.
Other Ideas:
Afghans. Make great gifts. I gave one and the bride and groom displayed it during their reception.
Bookmarks. Simple, yet elegant. Can be given as little gifts to those you want to give something to but aren't sure what. Also is great if giving bibles to the wedding party or bride and groom. Another idea, placed in a photo album or memory book to mark a favorite page.
Doilies. Great for the brides. Can be placed under a photo at the reception (and later the home).
Hair items. Scruchies, kerchiefs, bandanas, barrettes, bows, etc. Great for the flower girls, young women in the wedding party. Also nice for any lady in the wedding party. Can match colors to dress, or have all the same color.